Home
Atollo Style Table Lamp
Care Instruction Guide
BUY NOW 4 DUE IN 8 - 12 WEEKS
All items are dispatched within 2-5 working days. Some European dispatch times may be longer due to processing/admin. Any quantity of items that are not in stock or clearly displayed as due into stock with a certain date will be manufactured to order, please allow 12 - 18 weeks for these.
This item is not manufactured by or affiliated with the original designer(s) and associated parties. We do not claim any rights on any third party trademarks.
Product Specification
Material: Black Style Finish
Wattage: E27 1 * 40W Recommended
Bulb Included: No
Look: Danish Classic
Warranty: 2 Years

Assembly: Basic Assembly Required
Instructions: Included
Electrical: Comes with UK & Euro Plug
Switch: On Cable
Product Information
Dimension: Diameter Ø 38cm, Height 50cm
Packing Dimension: Width 42cm, Depth 49cm, Height 43cm
CBM: 0.088 Weight: 4.4kg
Product Description
A UNIQUE PIECE IN YOUR HOME
An iconic piece from 1977, the style Atollo Table Lamp became a symbol of Italian design. Its smooth cylinder, cone and shade brings together the past, present and future, combining them to form a timeless and elegant piece. The radiated light is a soft, diffused glow that is pleasing to the eyes. Ideal on a desk, console or cupboard, a sinuous and simple design that perfectly suits both living and work environments.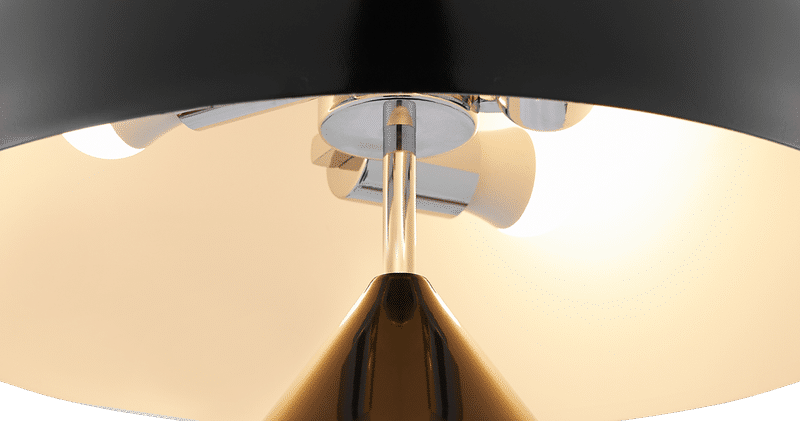 Designed as per the original
Our high-end style of Atollo Table Lamp expresses the originality and elegance of the original design. A true timeless piece that gives off a retro feel, exuding quiet drama. A fabulous statement piece that will brighten your space for years to come.