Home
MCL R2 - 2 Arm Pendant Lamp
Care Instruction Guide
BUY NOW 4 DUE IN 8 - 12 WEEKS
All items are dispatched within 2-5 working days. Some European dispatch times may be longer due to processing/admin. Any quantity of items that are not in stock or clearly displayed as due into stock with a certain date will be manufactured to order, please allow 12 - 18 weeks for these.
Product Specification
Material: Black Powder-Coated Metal Rods, Moulded Aluminium Shades
Wattage: E14 2 * 60W (Maximum)
Bulb Included: No
Dimmable: Yes / Independent Device Not Included
Warranty: 5 Years

Assembly: Electrician Advised
Instructions: Included
Look: Modern
FAQ: Adjustable Shades, Arms Length Not Adjustable
Power: Electric Cord and UK / Euro Plug Included
Product Information
Dimension: Width 105cm, Height 55cm
Packing Dimension: Width 87cm, Depth 51cm, Height 33cm
CBM: 0.146 Weight: 5kg
Product Description
A UNIQUE PIECE IN YOUR HOME
Created as a reaction to heavier, clunkier Italian designs of the time, the Contemporary Pendant Lamp also known as The Three-Arm Ceiling lamp by Serge Mouille was designed in 1958 and one of the most desired fixtures by Serge Mouille due to the versatile possibilities and it's striking beautiful design. Its wide radius allows it to illuminate even the largest living or dining room, while the adjustable shades mean that the light can be brightened or softened depending on the mood.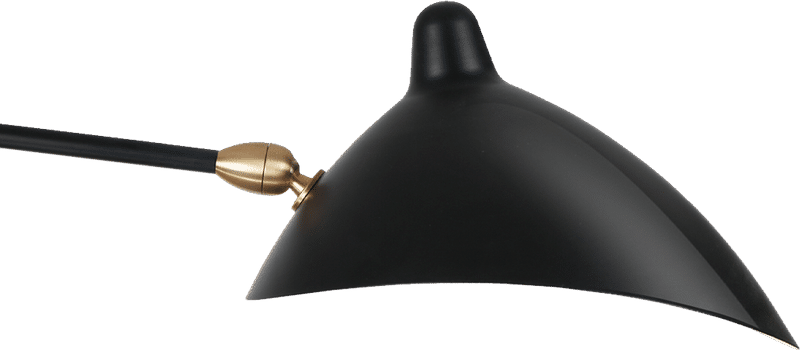 Designed as per the original
True to Serge Mouille's original production philosophy, Mobelaris style of the Contemporary Pendant Lamp also known as The Three-Arm Ceiling lamp is cast out of lacquered aluminium adjustable shades in matte black or white powder coat finish. The unique brass joint allows the head to swivel and turn to any position and hold steady. This beautiful lamp that is backed with a 12-month manufacturer's warranty and free bulb when mounted flush to the ceiling, will add a distinctive style touch to any area of your home.