Home
Flag Halyard - PP225 - Brushed Steel
Care Instruction Guide
Delivered 12 - 14 weeks
All items are dispatched within 2-5 working days. Some European dispatch times may be longer due to processing/admin. Any quantity of items that are not in stock or clearly displayed as due into stock with a certain date will be manufactured to order, please allow 12 - 18 weeks for these.
This item is not manufactured by or affiliated with the original designer(s) and associated parties. We do not claim any rights on any third party trademarks.
Product Specification
Frame: Brushed Stainless Steel
Legs: Brushed Stainless Steel 
Fabric: Head Rest Black Aniline Leather
Extra: Australian Wool Throw Included
Warranty: 5 Years

Assembly: N/A
Instructions: Included
Clean: Spot Clean / Light Vacuum
Style: Modern
Product Information
Dimension: Width 109cm, Depth 119cm, Height 83cm
Seat Dimension: Height 39cm
Packing Dimension: Width 110cm, Depth 120cm, Height 84cm
CBM: 1.11 Product Weight: 43kg
Product Description
A UNIQUE PIECE IN YOUR HOME
Flag Halyard Chair of Hans Wegner back in 1950. Although it hints a futuristic touch, it was surprisingly conceived during one holiday in Wegner's summerhouse. This one-of-a-kind armchair is made of solid stainless steel and it features a 240 meters specially developed flag line and a long-haired sheep skin made to make you enjoy the summer or a lazy afternoon in a more pleasurable way.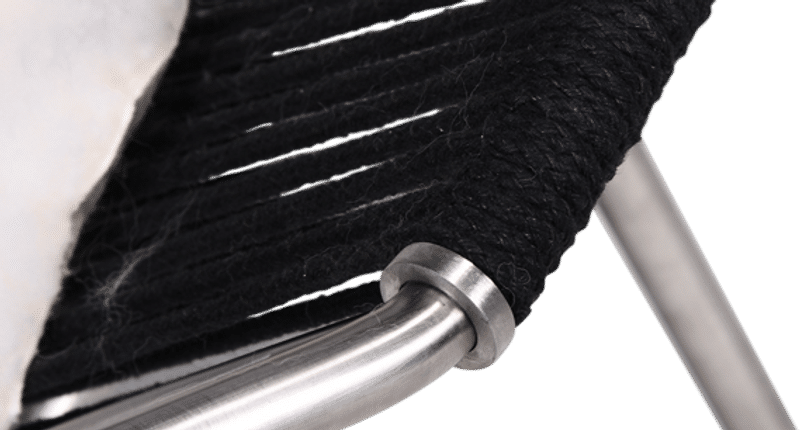 Designed as per the original
Perfectly built on a solid steel frame with a painted white finish, the Mobelaris Style of the Hans Wegner's Flag Halyard Chair upholds the original Danish design. Possessing a sculptural and engineered stainless steel frame while the flat surfaces are made with carefully handwoven single halyard flag and a neck cushion for ultimate relaxing luxury is upholstered in high grain Aniline Leather available in black, dark tan, or white. Comfort is added with a longhaired sheepskin throw in your choice of black or white color.