Home
Lampe Gras 304 L 60 Style Wall Lamp
Care Instruction Guide
Delivered 12 - 14 weeks
All items are dispatched within 2-5 working days. Some European dispatch times may be longer due to processing/admin. Any quantity of items that are not in stock or clearly displayed as due into stock with a certain date will be manufactured to order, please allow 12 - 18 weeks for these.
This item is not manufactured by or affiliated with the original designer(s) and associated parties. We do not claim any rights on any third party trademarks.
Product Specification
Material: Aluminium / Carbon Steel
Finish: Black
Wattage: E14 1 * 40W (Maximum)
Bulb Included: No
Dimmable: Yes / Independent Device Not Included

Assembly: Electrician Advised
Instructions: Included
Look: Modern
Warranty: 5 Years
Product Information
Dimension: Shade Diameter Ø 14cm, Shade Height 17.5cm
Arm Length: 1st Segment 60cm, 2nd Segment 20cm
Packing Dimension: Depth 73cm, Width 28cm, Height 19cm
CBM: 0.039 Weight: 10kg
Product Description
A UNIQUE PIECE IN YOUR HOME
Widely considered to be one of the first designers of the twentieth century, Bernard-Albin Grass designed his Lampe Gras collection in 1921. This Mobelaris style lamp series was initially intended for use in offices, laboratories and workshops. It's ergonomics and the simplicity of its mechanics quickly appealed and gained popularity to architects, artists and decorators who used these lamps in numerous projects. This modern wall light will brighten up your living space, suitable for bedroom, entrance, dining room, cafe, restaurants or office.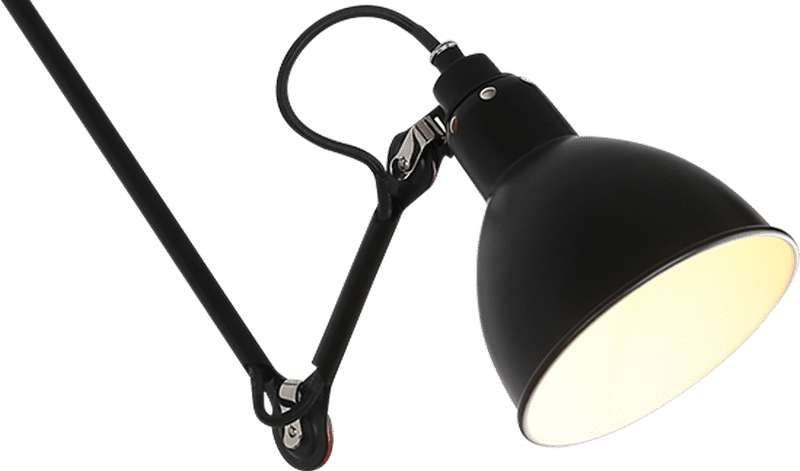 Designed as per the original
A mix of function and beauty, our style of Bernard-Albin Gras' Lampe Gras 304 L 60 Wall Lamp features a stunning design that combines industrial chic with a touch 20th century space-age retro style. A true timeless piece, the Mobelaris style Lampe Gras 304 L 60 Wall Lamp gives off a retro feel that makes sure your home feels lively, yet minimalistic and modern.

The Lampe Gras 304 L 60 Wall Lamp is a longer version of the Lampe Gras 304 L 40 Wall Lamp.