Home
Romeo Moon Pendant Lamp
Care Instruction Guide
BUY NOW 1 DUE IN 8 - 12 WEEKS
All items are dispatched within 2-5 working days. Some European dispatch times may be longer due to processing/admin. Any quantity of items that are not in stock or clearly displayed as due into stock with a certain date will be manufactured to order, please allow 12 - 18 weeks for these.
This item is not manufactured by or affiliated with the original designer(s) and associated parties. We do not claim any rights on any third party trademarks.
Product Specification
Material: Chrome Style Finish
Wattage: E27 1 * 40W Recommended
Bulb Included: No
Look: Danish Classic
Warranty: 2 Years

Assembly: Basic Assembly Required
Instructions: Included
Dimmable: Yes / Independent Device Not Included
Electrical: Comes with UK & Euro Plug
Product Information
Dimension: Diameter Ø 39cm, Height 30cm
Packing Dimension: Width 49cm, Depth 49cm, Height 51cm
CBM: 0.122 Weight: 4.6kg
Product Description
A UNIQUE PIECE IN YOUR HOME
The Mobelaris style of Romeo Moon Pendant Lamp represent a highly decorative fixture series. Originally designed by Philippe Starck, the Romeo Moon Pendant Lamp emit a soft and comfortable diffused light. Part of Philippe Starck's Romeo Collection that focuses on classic shape designs that never go out of style while utilizing minimal materials. Also available in table lamp and floor lamp versions.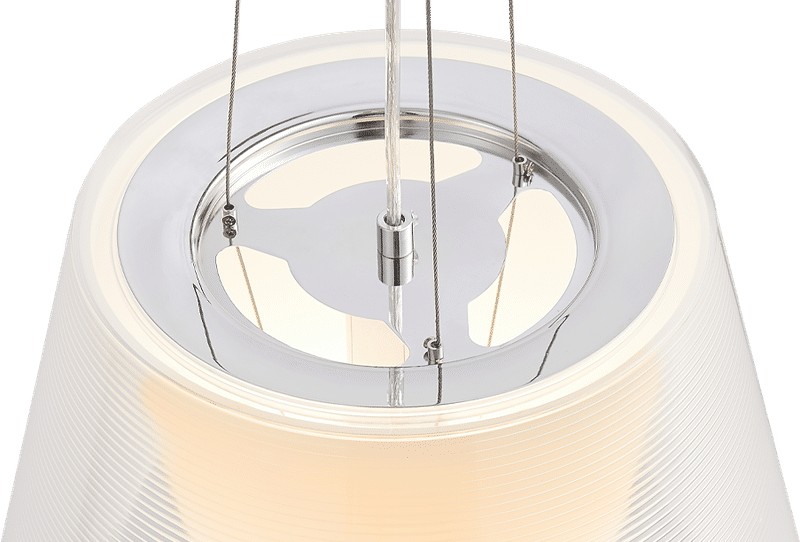 Designed as per the original
Illuminate your living room with the eye-catching Mobelaris Style of Romeo Moon Pendant Lamp. This beautiful Philippe Starck pendant lamp by Mobelaris will add grace and style anywhere you place it. May it be in your study, office or reception area, this lamp delivers a soft light across the room. A minimalist yet stylish approach to lighting by utilizing diffused shade gives this pendant lamp a smooth and relaxing vibe.