Home
PH 3/2 Style Table Lamp - Brass
Care Instruction Guide
48-72 HOUR DISPATCH, ONLY 3 LEFT
All items are dispatched within 2-5 working days. Some European dispatch times may be longer due to processing/admin. Any quantity of items that are not in stock or clearly displayed as due into stock with a certain date will be manufactured to order, please allow 12 - 18 weeks for these.
This item is not manufactured by or affiliated with the original designer(s) and associated parties. We do not claim any rights on any third party trademarks.
Product Specification
Material: Brass Style Finish Base / Glass Shade
Wattage: E14 1 * 60W Recommended
Bulb Included: No
Look: Danish Classic
Warranty: 2 Years

Assembly: Basic Assembly Required
Instructions: Included
Electrical: Comes with UK & Euro Plug
Switch: On Cable
Product Information
Dimension: Diameter Ø 33cm * 47cm
Packing Dimension: Width 35cm, Depth 25cm, Height 52cm
CBM: 0.046 Weight: 4kg
Product Description
A UNIQUE PIECE IN YOUR HOME
Designed late in the 1920s, The Mobelaris PH 3/2 Style Table Lamp represent a highly decorative fixture series. Applying the unique three-shade system. Poul Henningsen designed lightning to permit 12% of the light generated to contribute to the overall lighting of a room, while the majority of illumination is focused outwards and downwards to cast an atmospheric yet effective glow. The shade design is based on a logarithmic spiral, with the centre of the light source placed in the spiral's focal point.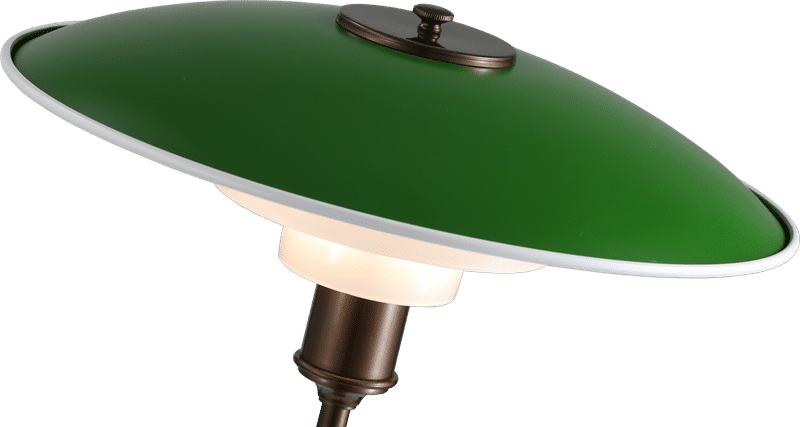 Designed as per the original
Illuminate your living room with the eye-catching Mobelaris Style of PH 3/2 Table Lamp by Mobelaris. Inspired by the design of Poul Henningsen, the base, stem and top plate are brass finish. Shades are mouth-blown, three-layer white opal glass which has a gloss finish on the upper side and is sandblasted matt on the inside to give a softly diffuse distribution of light. Perfect for a living room, bedroom, den, library, study or office.